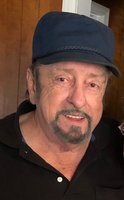 Kenneth Wade Collins
Kenneth Wade Collins 78, of Kingsport passed away on Monday, March 23, 2020. He retired from Eastman Chemical Company after 30 years of service. Kenneth was an avid musician and especially enjoyed singing and playing his guitar. He was a loving husband, father, grandfather, and great-grandfather who will be greatly missed by all who knew him.
He was preceded in death by his parents, Andrew and Phyllis Collins; brothers, Gene and Harold Collins; sisters, Loretta Dotson and Sharon Ward.
Survivors include his loving wife of 58 years, Phyllis Collins; daughter, Teresa Bridges; sons, Ken Collins Jr. and wife Aliceson, Randy Collins; grandchildren, Dustin Hensley, David Hensley, Cori Morelock and husband Seth, Cody Collins, Brandon Collins, and Conner Collins; great-grandchildren, Ronin Hensley, Sophie and Mason Morelock, and Tristen Hensley; along with a host of friends and extended family.
A private graveside service will be conducted on Thursday, March 26, 2020 at East Tennessee Cemetery.
The family would like to extend a special thank you to Carolyn Roberts for always being there.
Carter-Trent Funeral Home downtown, Kingsport is serving the Collins family.